A Day Without Multitasking
by Liz Reusswig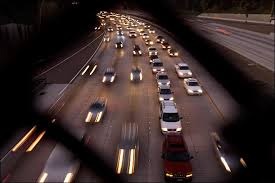 I continue to ponder the analogy of traffic and its relation to multitasking and managing our businesses and life in general. Personally and professionally, the past couple weeks have provided much fodder. Today's blog reviews a bit of what I've discovered personally.
Last week was wicked. Over several days, our family said good-by to my dear Aunt Nellie. Actually, she was my aunt-in-law, but through the years, she and I often joked that we were the outlaws. In reality, she was my aunt-in-heart. You know those people who enter your life and instantly seem to know your soul? They love and support you unconditionally and it has nothing to do with bloodlines – those are in-heart relatives and friends. I'm blessed to have and have had a number of these people in my life. I will miss my aunt, but in our final time together, she provided me something completely unexpected.
We had to drive 2.5 hours between services in New York and Connecticut along the infamous Interstate 95. Thankfully the traffic was light, the day was beautiful, and the ride, though long, was cathartic. After spending some time reminiscing, we mostly became quiet – each of us slipping into our own thoughts. For me, having previously lived in Connecticut, the familiarity of all we passed was welcoming. At the section where you can see the Long Island Sound, I wondered about the cargo ships – where they were from and what they might be hauling. At many exits, I longed turn off onto roads that lead to Connecticut friends whom I haven't seen in too long, and accepted that there would be no reunions this trip. I studied the craggy trees and bushes that line the highway. Their imperfection is intriguing to me as it is borne from years of weathering the many storms that roll up the East Coast. Storms, like traffic, are so unpredictable.
Previously, I would never have considered a ride along the usually hectic I-95 a "four-way stop," but on that day and in that time, it became exactly that. The frenetic traffic patterns of the many roads of my life paused – there was no multitasking, no worrying about other things. I was in the moment and it was as it should be. Somehow the sad ride along I-95 became a peaceful journey. We need these "four-way stops" to power down, reflect and renew.
~
Liz Reusswig is the owner of EMR Strategies, LLC and the founder of Kid's Theatre News.