Whether you are launching a website for the first time or you want to update an existing site, 33 Dimensions will work with you through every step of the process. From the most basic fundamentals of registering a domain name and finding a hosting service, to the more complex details of tailoring a site which meets the specific need of your customers, we will provide a clear and concise path to meet your goals.
Website Design
33 Dimensions can design new sites from scratch or using a popular content management system (CMS) such as WordPress, or we can adapt a current website.
We'll provide or guide our customers through every stage of the web development process including, domain registration, hosting, design, development, search engine optimization (SEO), analytics, and maintenance.
With complex designs emerging throughout the Internet, user experience (UX) is becoming ever more crucial to a website's success. 33 Dimensions provides concise and consistent design throughout and gives the user the ability to logically navigate and find vital information within a visually pleasing design with readable content.
Adapting or forging your message and branding are important in providing a consistent message across all media. 33 Dimensions provides detailed style guides so print and other materials exactly match your online branding (or vice versa).
Check out our guide to Getting Started Online.
Responsive Design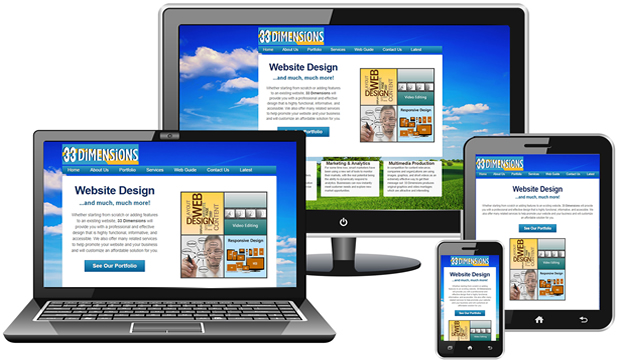 Today more people are using mobile devices and tablets than are using traditional desktop and laptop computers. For this reason, it is important that a website displays the most vital information in a presentation optimized for the device on which it is being viewed.
Website Maintenance and Management
Once your website is up and running, you will want to keep the information current, add new features, and freshen it up from time to time. 33 Dimensions offers quality and affordable maintenance plans and webmaster service. Also, we can adapt your site to include a Content Management System (CMS), which will allow you to quickly and easily make changes to your site independently without having to learn the coding or technologies that fuel your site.
We can provide training on WordPress CMS, which allows customers to regularly add content or blogs without any special technical skills.
Social Networking and Marketing
33 Dimensions will establish a social media presence on the appropriate channel for your business. While Facebook and Twitter are currently the most popular channels, LinkedIn may be the most critical for businesses, Google+ is emerging as important for SEO, and there are many more services coming on line each week. Further, we'll help you claim your physical address and geographical service area by registering with Yelp, Google Places, and other local search sites.
Multimedia
We recently began producing short professional videos for our business and entertainment customers, a vital tool in modern marketing. We can also compose or provide original audio for these productions, design or facilitate print material such as business cards, labels, specialty merchandise, or flyers.
Most of the graphics and logos on our websites are developed in-house and we can provide specialized images and widgets for social media channels. We will also work closely with artists, photographers, or video producers to accommodate your exact look, feel, and branding requirements.
Consultation
The Internet is extremely vast, dynamic, and ever-changing. New technologies, methods, and trends are born virtually every day and it can be downright frightening trying to figure out what is best for your company or organization. Beyond the basic informational portion of your site, there are many features, services, and strategies to consider. These may include Web Analytics, Search Engine Optimization (SEO), E-commerce, advanced artwork, and the incorporation of media such as animated graphics and video. Some of these services are provided by 33 Dimensions while some may require the help of outside specialists. In any case, we have the knowledge and experience to help you decide what best fills your needs and point you in the right direction. It is important for us to not over-promise nor over-reach when it comes to what we do best. Therefore, we have been building and will be constantly expanding a network of business partners who we trust to provide services which may be beyond the scope of those offered by 33 Dimensions.
Copywriting
Copywriting is the art of coming up with words that best inform, educate, and/or persuade the reader so that he or she will be intrigued to find out more about what you have to offer. 33 Dimensions has experienced writers, editors, and proof-readers who can provide you with the best words for your website and overall marketing strategy.
Please Contact Us for more information on these services.