33 Dimensions Newsletter

October 29, 2012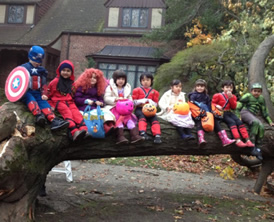 Usually Halloween is a time for good nature and fun, but this year Hurricane Sandy is bearing down upon us in the Mid Atlantic and there is in an official state of emergency. Sandy gave the kids a few days off of school and some of us a few days off of work (although we never really stop working at 33 Dimensions) and, while unexpected vacations are serendipitous, this storm is to be taken very seriously.
I encountered some comedy in the stores yesterday. A clerk in the hardware store was answering the phone, "Thank you for calling, we are out of generators how else can I help you?" I even witnessed a "water thief" in the local market grab two gallons of bottled water out of another customer's cart and disappear into the gridlock of shopping carts between bare shelves where bread and milk used to reside. Hopefully everyone managed to get their supplies and is home safe to ride out the storm.
Be safe out there!
Karyn Albano
Communications Director
33 Dimensions LLC
---
Client Initiatives

For those of you struggling to find your way in the vast world of social media, I've got the inside scoop on a product that's launching in early November. This comprehensive, practical and affordable guide is perfect for ANY small business! After years of working with small business owners and witnessing the many challenges they face, the developer, Rachel Strella, has created a product that's guaranteed to help your business. Rachel understands that small business owners wear many hats – and as such – find it difficult to execute an effective social media plan for their business without spending hours a day or hiring additional help. Keeping up with the changes to social media alone is enough to drive someone mad, which is why a product to help business owners leverage the time and resources they have to create a presence that generates results is so important.
The guide contains five modules each with a theory, an example of execution, and exercise for crafting a successful social media game plan to meet your business goals. Unlike other social media products that can cost thousands of dollars, Rachel has made this product affordable for the small business budget – a one-time fee of just $149! I can personally attest to the value Rachel provides and I'm very excited to share the knowledge of this guide with you! Click here to learn more about the product and stay tuned for details on ordering, coming next week!

The Badlees are about to start production on their most ambitious recording to date, a double album of about 25 songs, and they are offering fans a chance to be part of it from the beginning. Being an independent artist, The Badlees are in a unique position to offer special fan perks and in return, fans can help with such an ambitious project with a custom and unique "crowdfunding" program. Check out the new record page on Badlees.com and browse through the various packages that are available now through the end of the year (12/31/12), but act fast because there are limited packages and the band expects these to sell out fast!
---
Welcome
We'd like to welcome some fine businesses and organizations for which 33 Dimensions began providing web services since the publication of our last newsletter.

Since its opening in 1994, The Cornerstone Coffeehouse in Camp Hill, PA has been a popular destination for those seeking great coffee, positive energy, and a warm and diverse sense of community. Their inviting atmosphere, great food and beverages, and great service has won them the prestigious Harrisburg Magazine's "Simply The Best" award for the past ten consecutive years. Beyond the typical coffee house, the Cornerstone supports and presents local music and art, various non-profit organizations and causes, and includes the Cornerstone Culinary Kitchen and Cooking School, a Tuscan-inspired private room and kitchen for cooking classes and special occasions.
The Cornerstone website

33 Dimensions is happy to be updating the website for Greater Hazleton Historical Society and Museum. The society was established in 1980 as a private, non profit organization, with the physical museum being established in the historic Pioneer Firehouse in downtown Hazleton, Pa. The purpose of the Society and Museum is to preserve, educate, and share the rich local history of Hazleton and the surrounding area, with an endeavor to accomplish these goals through a variety of online media, museum tours, and special events. The Society also strives to intervene and actively preserve local landmarks – particularly those in danger of deterioration or demolition.
Greater Hazleton Historical Society and Museum website

Greco Chiropractic offers professional chiropractic and physiotherapy services to patients throughout the Hazleton, PA area. Whether you have been injured in an accident or are suffering from muscle pain, Dr. Julian Greco and his knowledgeable staff can help alleviate your discomfort and educate you on how to keep your body limber and healthy. With over 10 years of experience, their dedication to patients' treatment has earned them the reputation as one of the best chiropractic centers in Northeast Pennsylvania.
Greco Chiropractic website.
We strive for the growth and success of all our customers!

33 Dimensions
P.O. Box 126
Highspire, PA 17034
info@33dimensions.com
---