33 Dimensions Newsletter

November 21, 2012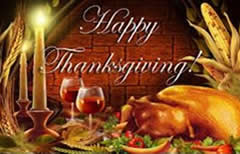 Happy Thanksgiving Everyone!
I have much to be thankful for this year, beginning with the privilege to run a creative and rewarding business like 33 Dimensions. It has been a year of great growth for my company and I've gotten to work with and know so many great clients and associates, which has been fantastic.
Of course, on the other side of Thanksgiving comes the retail blitz which kicks off the holiday shopping season. "Black Friday" has become an institution, almost to the point of becoming a national holiday in of itself. Over the past decade or so, "Cyber Monday" has become a huge day for online sales. But the latest and greatest of these specialized shopping days is Small Business Saturday.
Started in 2010, this November 24th will be the 3rd Small Business Saturday and I encourage you all to participate. As a small business owner who provides the bulk of my services to other small businesses, promoting and supporting such initiatives is a year-round endeavor because these businesses face multiple challenges (as I wrote about in this blog on Sunday). Please support some of our affiliated initiatives listed below as well as small business in general.
Ric Albano
Owner and Creative Director
33 Dimensions LLC
---
Small Business Initiatives

Small business owners wear many hats, which often leaves them short on the time, money, and resources it takes to properly execute a social media plan. If you've been struggling to find your foothold, it's time to turn the tables by ordering A Small Business Owner's Guide to Social Media. In coordination with Strella Social Media, We're offering a special 50% off, Thanksgiving / Black Friday / Small Business / Cyber Monday sale of this.

Located in the heart of Camp Hill, Pa., The Cornerstone Coffeehouse offers the absolute best of what a small business can be. With a relaxed and inviting atmosphere, the Cornerstone offers an incredible selection of coffee, tea, and creative drink specials and top-quality lunch selections ranging from salads to hearty sandwiches to savory soups. They have cold treats during the summer, a warm atmosphere during the winter and year-round offers live music, special art displays by local artists, and a top-notch gourmet cooking school. The Cornerstone also has a private room which is a great place to hold meetings, private parties, and fundraisers. Visit the Cornerstone Coffeehouse website

You may not think of a rock band as a "small business", but for nearly 23 years The Badlees have been run as just that. In their early years, they started their own record label to sell their albums, which sold so well that the big labels took notice. In 1995, they signed with one of those labels, toured the world with top-notch acts, and scored a couple of top 40 hits along the way. Now they own their own studio and once again produce their own music right here in Pennsylvania. In 2013, the band will do something they have never done before – release a double album – and they currently have an extensive program where fans can get involved in supporting this ambitious endeavor. Please check out the band's website to get involved with this exciting project. The Badlees 2013 Double Album Campaign
---
Coming Soon
In December we will be launching three new websites, all of which offer exciting prospects.

Ron the Bagman is the owner of R. Davis Enterprises near Elizabethtown, PA. and is truly a unique client to say the least. On the technical side, Ron offers a range of services including logistics, distribution, wholesaling, warehousing, importing, exporting, LTL trucking with "white glove" service and, of course, top quality custom plastic bags made in the U.S.A. On the personal side, Bagman is an unforgettable personality who has done business around the world and is known by name at markets in New York, Philadelphia, Baltimore, Lancaster, Harrisburg, and many places in-between. 33 Dimensions is proud to be a new member of the "Bagman family".
EMR Strategies and Kids Theatre News are both initiatives of a central Pennsylvania entrepreneur who has set her focus on expanding to other regions on the Northeast. EMR Strategies was established in 2008 to offer services for business executives, entrepreneurs, politicians and government officials with problem solving, strategic planning and organization. Kids Theatre News is a brand new initiative which will provide a central hub for students and parents involved in theatre shows and other stage events. This website will focus on medium-sized markets with a strong theatre community, starting with the Harrisburg, PA area and Albany, NY area and expanding to other locales in the future.
We strive for the continued growth and success of all our customers. Please support small business this weekend!

33 Dimensions
P.O. Box 126
Highspire, PA 17034
info@33dimensions.com
---