Small Business   |   Community & Non-Profit   |   Main Portfolio Page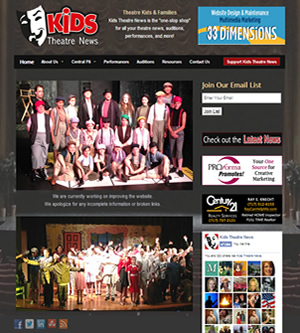 Kids Theatre News
Started by a 'theatre mom" in Pennsylvania, Kids Theatre News provides information on theatres, auditions, classes, camps, workshops, school productions, theatre company performances, and much more. 33 Dimensions designed and helped launch the original Central Pennsylvania site in early 2013, with future sites in other medium market locations coming soon.
---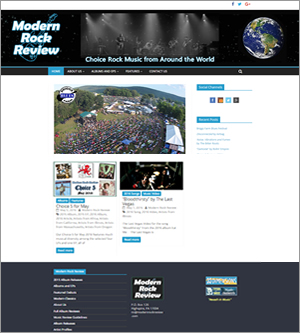 Modern Rock Review
33 Dimensions developed and manages Modern Rock Review, the grandfather rock music site, launched in October 2010 to offer in-depth profiles, articles, and reviews on contemporary musical artists. The website has a worldwide audience and has been updated several times, including a major renovation in 2013 to a fully responsive website.
---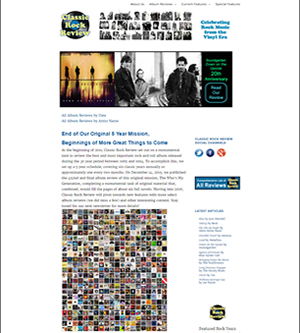 Classic Rock Review
Classic Rock Review was established at the beginning of 2011 on a five year schedule to provide album reviews of relevant material from the classic years spanning from 1965 to 1995. Every two months, the site focuses on the music of a new year in classic music along with periodic special features on important moments in the history of rock music.
---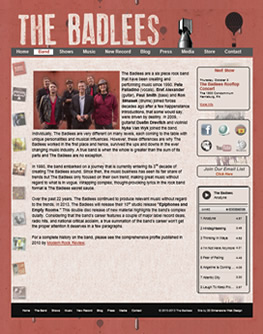 The Badlees
The Badlees are a Pennsylvania band that has achieved national fame and continue to record and perform quality music. 33 Dimensions built a quality site at Badlees.com in 2011 and completely reconstructed the site in 2012 ahead of the band's compilation package See Me As a Picture, The Best So Far 1990-2012. In 2013, we implemented a third design in conjunction with the album Epiphones and Empty Rooms.
---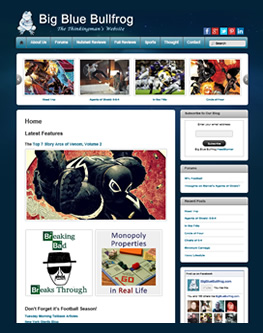 Big Blue Bullfrog
Big Blue Bullfrog was established in 2006 as a showcase for the literary work of a young writer but has since expanded to include movie, music, game, and stage reviews as well as a hefty dose of NFL football and political commentary. 33 Dimensions has built, maintained, and performed two major revisions to the site, with the 2.0 re-launch in 2011 and the fully responsive version 3.0 in 2013.
---
Cygnus Wave Records
Cygnus Wave is an independent record label and publishing company with seven album releases and counting. The site was originally developed with the label's founding in 2005 and a major redesign was made by 33 Dimensions in 2011.
---
Keystone Rock Review
As a successor to DAMES of PA (an original client of 33 Dimensions), Keystone Rock Review was established in 2012 to promote Pennsylvania artists and musicians. 33 Dimensions designed and developed the site.
---
Share and Enjoy